Here's me with the Clarkson Cup!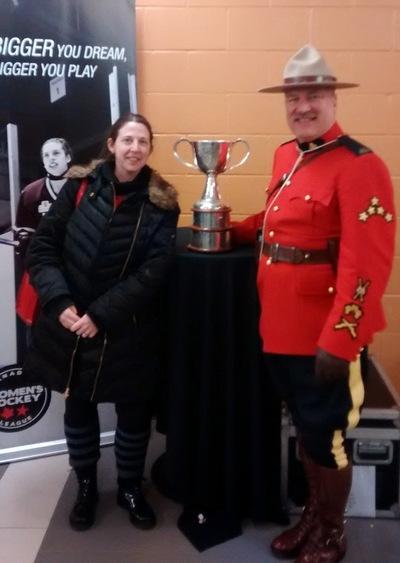 I thought I'd take a little timeout from the playoffs to talk a bit about my other favourite hockey league, the CWHL. I visited the City of Markham in March to see the CWHL Clarkson Cup tournament. That's Clarkson as in Adrienne Clarkson, as like all sporting cups worth their salt in Canada, this one is named for and was first presented by a Governor General. In it's 8th year, the Canadian Women's Hockey League is still quite small, with 5 teams comprised of the world's best female hockey players. I had a couple "I am experiencing history" moments as it occurs to me that the early years of the NHL couldn't have been that much different from these early years of the CWHL.
Ever since I stayed up all night to watch the gold medal Canada/US game in 1998 I have wondered where I can watch women's hockey during the 206 weeks when there are no Olympics. Each year I have said to myself "Oh, when our hockey loving nation's national broadcaster reminds me that the women's hockey season has started, I shall follow it." After all, I watch the men's junior hockey tournament every year because the CBC tells me it's happening, and then they broadcast it. I watch NHL games as the same broadcaster tells me they're happening, and then they broadcast them. (Although, those days are pretty much over for the CBC) Naively I thought they would do the same thing for women's hockey. How foolish of me. Googling "women's hockey" never turned up much either. Just some university pages with little info.
The history of women's hockey in Canada is confusing and disjointed to say the least, with several leagues starting, merging, collapsing etc. This is pretty much how all major sports leagues have their beginnings, and it's looking like Women's Hockey in Canada is settling into a winning format with the CWHL. I'm disappointed that I was not able to discover the CWHL until the season ended last year. I think I stumbled across an article in the CBC saying the Clarkson Cup had been won. No articles telling me it was about to be played for, (and aired as I later heard from my brother who watched it after stumbling across it on TV) or that anything resembling a regular season had occurred, but finally I had a tangible google search item, and lo, I found the website for the CWHL and immediately signed up for all their communications.
I'm fortunate enough to live in one of the 5 cities that has a team. Tickets are ridiculously cheap, the stadium is easy for me to get to, and the parity between the teams in the league is close, so the games are good. The numbers are all posted to cwhl.ca by the time I get home from the game so I can geek out on stats. I was familiar with a number of the players as I've been watching them play for Teams Canada and USA at several Olympics. Seeing it live is something else though.
The Clarkson Cup tournament was played in Markham (just outside of Toronto) and I was able to travel there for the whole tournament, which consisted of four teams playing two best of three series followed by a single elimination game final. Fourth place Toronto held out as best they could, but were no match for the first place Boston Blades and were eliminated in two games. The Montreal/Calgary series was very fast, and could have gone either way, but Montreal also managed to clinch it in two. Boston won the cup in OT. I of course was rooting for Montreal, but I thought Boston played a tighter game, and deserved their win. The CWHL has been releasing articles analyzing each team's numbers during the season, and Boston has come out on top, so they really did deserve their win. In general, I'm always rooting against whatever team Boston forward Hilary Knight is playing on, but she's actually one of my favourite players, so I can be happy for her even after she's crushed my team. (Sorry Team Canada, though why you didn't start that game with Clarkson Cup winning, Hilary Knight teammate Geneviève Lacasse in goal I'll never know.)
The day after the Clarkson Cup final I checked the CBC to see if it got any nation wide press. The CBC Montreal page had a story, but on the main sports page where most sports fans would be looking for sports news there was an article about the junior world men's game that will be played on December 26 2015, but nary a whisper about the final of the women's hockey season played the night before. Nothing on RDS either, which is even more shameful as they have extensive coverage of the AHL, the Quebec Junior Hockey League and Midget AAA hockey as well as NHL. You'd think they'd run a story on Montreal's women's team playing in the final. A search for LNHF on their site returns a whopping 7 stories, mostly about the Olympics, and dating as far back as the year 2000.
Speaking of shameful, I recommend reading this article on how the NHL treats the CWHL. Note the contrast with the awesome way the NBA has been treating the WNBA for the last 20 years.
One of the worst outcomes of this lack of awareness of women's hockey in Canada is that the women who play for the CWHL are not paid. My understanding is that the CWHL has a plan that will culminate in paid players, but I'd welcome anything that speeds that up. One of the accelerators may be the creation of the NWHL, a four team American league which is planning to pay their players. You can find out more about them at nwhl.co Their first season gets underway in October, and they've named their trophy the Isobel Cup, after Lord Stanley's daughter. I'm hoping that they are successful, and that the CWHL will get some ideas on how to start paying their players sooner. Right now there are paying women's leagues in Europe, but they limit the number of spots that can be taken by North American players. Besides that, the quality of the hockey is not at the same level as "Amateur" women's hockey in Canada,(yet) so it doesn't draw our players away. I'd think that a paying league in the states would have the quality hockey necessary to draw players away from the CWHL.
Even the kids playing in the OHL, WHL, and QJHL get a weekly stipend for playing, and the ones who aren't good enough to make it to the NHL have a myriad of professional hockey leagues around North America and Europe that pay living wages to join. Obviously they can't live the rest of their lives on those wages like the NHL players can, but it's enough to support themselves while they play hockey. The women have to work full-time jobs, as well as be pro athletes. Women who play well but not well enough for the CWHL don't have much by way of options to keep playing hockey after university either. The final indignity is that Montreal and Toronto have soccer teams in some league who's name I don't even know and they get paid. Come on, a man can get paid to play soccer in Canada, but a woman can't get paid to play hockey?! Ridiculous.
— Kyla