I just spent the week-end at the Canadian Music Week summit in Toronto. The highlight of the summit for me was seeing Martin Atkins speak. The panel discussions at these things are still generally geared towards those who are going for a more mainstream approach to the music industry, but Martin Atkins is very much the DIY poster boy. I've got his book "Tour:Smart And Break the Band" which I can't recommend highly enough, and he gave out downloads for his new book "Welcome to the Music Business You're Fucked" which I'm currently devouring.
I also attended the celebrity interviews with Steve Lillywhite and Bob Ezrin, which turned out to be more like career retrospectives, where I was expecting more talk about production. I was shocked and appalled that the festival organizers did not mention The Pogues on Steve Lillywhite's bio of bands he's worked with, so I was overjoyed when he looked at the list and exclaimed: "The Pogues aren't on this list! I made a great album with The Pogues!" And indeed he did. A couple of the panels I attended had terrible moderators, but fortunately the people on the panels were doing plenty of milling about, so you could ask them questions afterwards.
I met quite a few other interesting folk involved in various other aspects of the music industry as well, but let's get down to what's really important.
I went shoe shopping.
I bought no shoes, but I did try these on.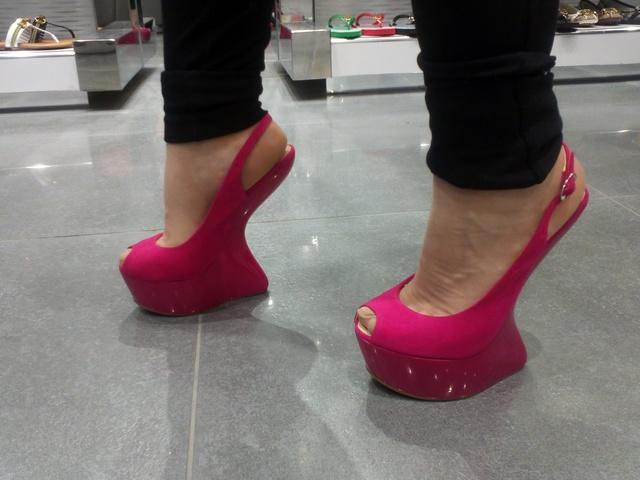 While I did consider spending the Molt album fund on this perfect work of art, I decided it would probably be better to print CDs. Also, the store had the worst salesgirl ever. She was kind of glorious actually. When I picked up the floor model and asked her for a size she somewhat rudely suggested I try just slipping on the smaller store model. After I told her I knew they'd be too small, (and trust me, I know when a shoe won't fit) she came back and kind of threw the shoes at me explaining in an equally rude manner that they didn't have the size I asked for so she got a half size up. Which, as it happened, fit me perfectly, and I wish I could have recorded her telling me just that by mechanically reciting from the shoe selling manual all staff must have received.
I couldn't find anything about the shoes on the store's website, but I'd taken a picture of the bottom (and pretty much every other angle) so I did a google image search for shoe designer labels and discovered they are by Giuseppe Zanotti. Then I spent hours and hours and hours looking at his shoes online.
— Kyla