Molt will be playing at Barfly on Thursday July 21. We'll be playing with Reason Prevails, who jam down the hall from us. The sound of their practising was so good that I had to go ask them to play a show with us. It will be their first show if I understand correctly.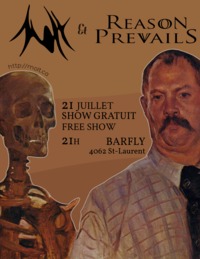 We will be playing our full album set, and the show will be free. Check out this awesome poster that Julian made. He searched for artists whose work is in the public domain who were born on July 21st. He discovered Lovis Corinth, who was not only born on July 21st, but painted a self-portrait every year on his birthday. Is that not awesome or what? I guess Lovis was feeling a sense of his own mortality that year, but if you cruise the net, you'll find that some birthdays he celebrated harder than others.
So there you have it. Two bands and an artist to check out. What more can you ask for?
— Kyla